Here is a recap of week four of the Hundred Push up challenge (more info here):
Day 1: 22/16/16/14/37
Day 2: 22/17/17/15/34
Day 3: 25/19/19/17/33
I took my advice from week 3 and stretched out/warmed up prior to the push up sessions. Here is a chart of my progress through week 4.
The blue line indicates the total push ups for the day and the red line is the goal or minimum amount for the day. I am starting to create a little separation between the lines. Hopefully week 5 will be as big of an improvement as week 4 was.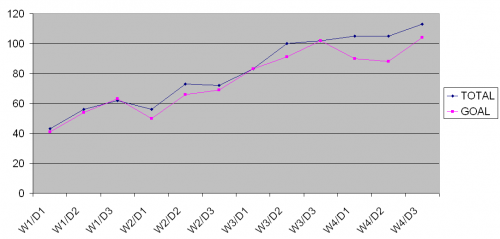 Please consider subscribing to GeoffManning.com to receive new posts in your RSS Reader or by Email.